Greetings from Robert Schow, VP of Customer Relations
We at StoresOnline hope that the beginning of the Fall season has been exciting for you as an entrepreneur. StoresOnline customer support is here to assist you, but more importantly, we're here to help you learn. We will be holding another merchant training webinar on Thursday October 23, 2008 at 3:00 PM MST. This months webinar will focus on the Avail communication system and what it can do for your business. Log on to StoresOnlinepro.com for more information on how to register for this event.

Avail 24/7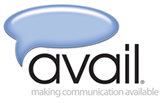 Everyday as small business owners, we are searching for ways to improve our sales and become more efficient. As merchants of StoresOnline you have the inside advantage on what's new and can help you improve your business. The Avail system is a 3 in 1 communication package which helps small businesses with customer relations and experience. The Avail system is a product designed and supported by Stores Online. It allows merchants to send and receive emails, receive inbound phone calls/voicemails, and receive faxes.

With Avail, merchants are able to create email accounts that are customized to the domain name of their website (i.e. support@yourdomain.com). Doing this not only gives you a fully functional email address to use to communicate with your customers, but it also gives your website a very professional appearance. It shows your customer that you are a professional online business.
With the Avail communication package, you also have the ability to receive phone calls with a toll free phone number. How many times have you had someone call your house asking questions about your business or product? Avail helps you sort out the calls you want to receive concerning you business and at what time you would like them to come through. You also receive a toll free fax number that allows you to receive faxes directly to your avail account to view and print like emails.
When you activate your Avail account, you will be able to customize a professional greeting menu that your customer's will hear when they call. In this menu, you will set up teams. The teams that you set up determine where a call will go; whether customers will be directed to customer support (you) or to your voicemail so you can call them back. With an avail account you can set up a total of ten teams which leave customers with many different communication options.
When logged into Avail, you will find a interface similar to that of the StoresOnline store builder, with a main tab titled messages. This tab was created for the easy organization of any messages that you receive, whether they be email, phone, or fax messages. Each message appears in this menu, and you will be able to go through them and sort them according to your preference. If you would like to create more folders to manage your mail, you can go to the accounts tab and click on the folders sub tab on the right hand side. In this sub tab you will be able to create and delete folders that can be used to sort and organize your email messages.
In the contacts tab you will find an easy to use database that allows you to create new contacts that can be added into different groups and organized to your desired preferences. The groups tab on the right allows you to make special groups for contacts that you may want to separate from others. For example, you could create a group for drop-shippers, so that you can manage them and keep them separate from other contacts that you have in your Avail account. Another group you could create is a customers group. This would allow you to be able to put all customers into one group and send them a bulk email about new products and upcoming sales. There is also the option of exporting the contact list from your web site, and importing it into your Avail account so that you have an accurate list of all of your contacts.
The next tab you will come across is the Email tab. In this tab you will be able to create the different email accounts that you want to use for your business on your Avail account. Business email addresses are useful for contacting future drop shippers as well as customers. The email addresses that you set up will be addresses that are customized to the domain name of your website, which will allow you to be able to send professional communications from your business and have it reflect your business name in the email address. This gives you and your business a much more professional look which, in turn, will give your customers the confidence to buy from you.
In the Phone tab you will find the menus submenu, which is where you can create phone menus for your customers. There is also a sub tab for teams. Here you will be able to create the different teams that customer's will reach when they select an option in the phone menu. One team could be for sales, orders, customer support, or voicemail. These different teams will help you organize your phone calls and direct them to the appropriate people in your business.
In the Fax tab, you will see your toll-free fax number and any users that have access to it. You can designate which specific users have access to view faxes by double-clicking on the number or by selecting the number and then selecting the edit button. You can also create a blacklist if you know of specific email addresses, fax numbers, or phone numbers that you do not want to get through to you.

The Account tab is where you can add individual users, which you can later add to various teams. For each user, you can add multiple phone numbers for the Avail system to direct calls to. You can also set up separate passwords for these users, and assign permissions. You can also add as many folders as you need to organize your messages. There are several default folders already created for different purposes. The backup page is where you have the option of saving and restoring your Avail account settings in the event that they are reset or somehow lost. In preferences you will be able to edit personal information at a later time if things need to be changed as well as selecting the Language and the Time zone using the drop down menus provided.
If you have any other questions about Avail and its capabilities, or how to activate your Avail account, call customer support at (801)-234-5980, and they can help you get your account set up and activated today! Call us today, and anyone of our customer service representatives will be able to give you a discount code that will help you get started immediately. We wish you luck in your future business endeavors, and are proud to be a part of them!

New StoresOnline Pro Features

PDF Catalog: You now have the option of creating a PDF catalog of your products for your customers. To generate a catalog, go to the Print submenu in the Publish menu. Select Catalog from the drop-down menu, and then select the Add button. You will be directed to the Catalog window where you can set your cataloge preferences and process your print request.

New Tutorials: There are two new tutorials available in Merchant Services: Anchor Text Linking and Pay Per Post Advertising. These are both brand new optimization and marketing techniques that are proving to be quite affective. There is also a new sample drop-ship email available for you to use as a template.


Featured Testimonial
"It's like you're going back to school and taking a master's level course...You get every kind of information that you could possibly want, you get it right there, and you have somebody to call if you get confused. That kind of support was what convinced us that we could do the Internet marketing."

Kathleen Records

http://www.weddingbellaccessories.com/
Click Here to read Kathleen's story

Our customer service and programming departments are committed to providing the best possible service to our merchants by listening and responding to their needs. If you have any questions, comments, or suggestions for our customer service department, you may visit us at www.myquickresponse.com for 24/7 Customer Support Live Chat. You may also call 801-434-8582.

As always, we are grateful to have you on board as a merchant with StoresOnline! See you next month!


Robert Schow
VP of Customer Relations
StoresOnline, Inc.